Solo exhibition, Mexico City
Dark Space Where Things Cannot Be Put
MUAC, Mexico City
(ME, 11 September 2021-27 February 2022, curated by Amanda de la Garza and Virginia Roy)
Zyklus von Kleinigkeiten digitized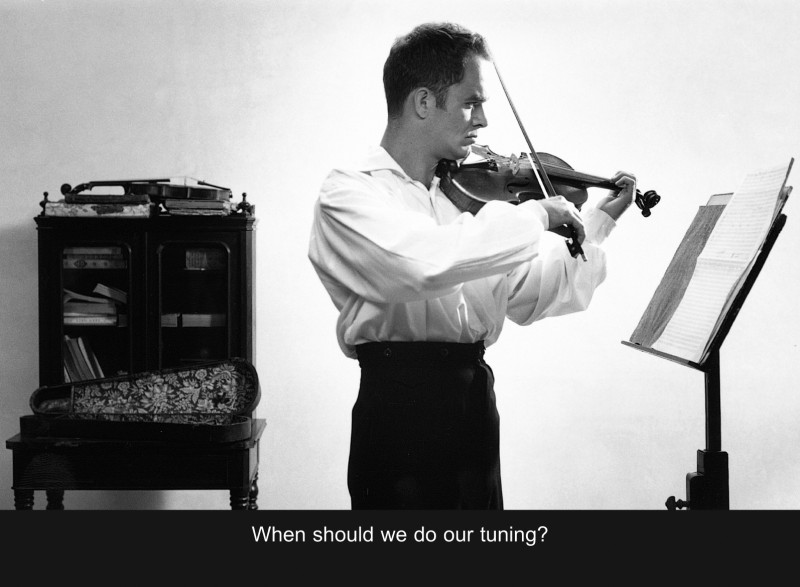 Ana Torfs' only feature film Zyklus von Kleinigkeiten (Cycle of Trifles, 1998) has been digitized by the Royal Belgian Filmarchive (Brussels) and Eye, the Dutch Film Archive (Amsterdam). On this occasion, I initiated a programme with Ictus, which premiered on 18 February 2020 in deSingel in Antwerp. The presentation during Klarafestival in Brussels on 22 March 2020 was cancelled due to the COVID-19 pandemic but it was postponed and took take place in Bozar, Brussels on 6 October and 7 October 2020.
Ana Torfs made her first and only feature film, Zyklus von Kleinigkeiten (Cycle of trifles), in 1998. She based her work on Ludwig van Beethoven's so-called conversation notebooks, notebooks that allowed his visitors to communicate with the famous composer after his hearing deteriorated dramatically in 1818. This film was originally to end with the canon Wir irren allesamt, nur jeder irret anders (We all err, but everone errs differently), sung by some actors from Torfs' film. It is the last composition Beethoven wrote, in December 1826. Due to circumstances, this scene died in the final editing, something Torfs has always regretted. This project with Ictus, Wir Irren, originates in the first place from this loss. Without the digitisation of Zyklus von Kleinigkeiten by the Royal Belgian Film Archive and Eye, Dutch Film Archive, this collaborative project would not have come about. Two composer-performers, Jean-Luc Fafchamps and Aurélie Nyirabikali Lierman, come together with Lucy Grauman, George van Dam and Géry Cambier for an informal musical performance. The musicians who play and sing invite the audience to their exploration of Wir irren allesamt, nur jeder irret anders. This speculative, cryptic and playful exercise inevitably leads to a musical fiction, like an unforced happening between friends in the living room.
Web project Approximations/Contradictions reprogrammed in HTML5
Dia Art Foundation in New York has reprogrammed Ana Torfs' only web project Approximations/Contradictions (2004) in HTML5 as Flash is no longer supported by most browsers. The size of the work has been adapted to contemporary screens. For an introduction to this work, based on the "Hollywood Songbook" by Hanns Eisler and Bertolt Brecht, look here.